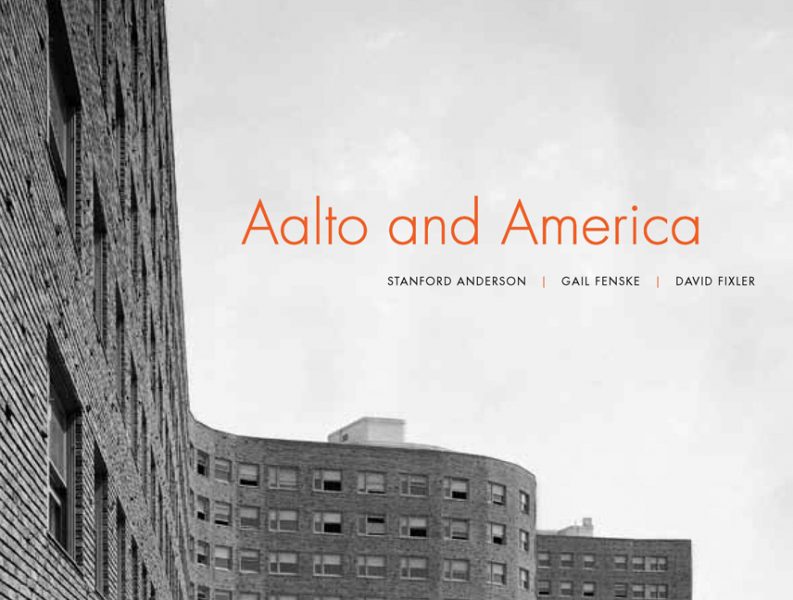 Aalto's "American Town in Finland"
The renowned Finnish architect and designer Alvar Aalto (1898-1976) created several landmarks of modern design in America—the Finland Pavilion at the New York World's Fair in 1939, the MIT's Baker House dormitory completed in 1949, and the Mount Angel Abbey Library completed in 1947 in Oregon.  Although Aalto's career was, for the most part, based in his native country, his experiences in America were influential to his style and career. The essays in Aalto and America, edited by Stanford Anderson, Gail Fenske and David Fixler and published this week, explore the artist's engagement with the United States. In the essay, "A Bridge of Wood: Aalto, American House Production, and Finland," Professor of Design and Culture at the Aalto University School of Art and Design Pekka Korvenmao presents the plans for and fate of Aalto's ambitious project, An American Town in Finland.
In 1940, Aalto set in motion a plan to build an experimental town meant to ease reconstruction efforts and help solve rehousing problems in Finland. During Aalto's stay in America from March to October 1940, he put together an impressive network of support for the project, including leading universities and donors like the Rockefellers. MIT invited Aalto as a visiting professor in 1941 and provided support for the accumulation of knowledge and for a consortium shaped around this building project. Aalto stressed research, high quality, flexibility, and the chance to produce models that could also be applied elsewhere under similar circumstances. His vision was not limited to Finland; he anticipated the years of reconstruction in Europe that lay ahead and sought the technological advances and financial support he could find in America.
At MIT, Aalto conducted research and remotely monitored reconstruction back home. He examined the flexibility of standardization, the reactions of humans to various architectural elements, and established the surface areas of the planned housing. Central to Aalto's research for this experimental town was the "human factor"—how can one accommodate psychological and social variables in an essentially serialized production plan?  Aalto and his research partners were attempting to avoid the usual results of emergency reconstruction: barrack-like shoddy construction and monotony.
Prefabricated wooden houses lay at the core of the whole plan, which called for 168 single houses, 3 units of terraced apartment houses, and possibly 3 additional units of row houses. The town would also include a community center, a school, an athletic field, and be favorably located relative to existing towns, industrial districts and agricultural centers. Even though the American Town in Finland plan was just beginning, Aalto was already well-versed in the mass-production of wooden one-family houses. He had executed such types in the late 1930s with his designs for the Finnish industrial communities of Sunila and Kauttua.
Although the research conducted by Aalto was never completed due to the unfolding of World War II, his American Town in Finland is a fascinating glimpse into the ideological factors that may have influenced Aalto's decision to mediate such a project between Finland and America. Pekka Korvenmaa writes, "For many in Finland, the American model of societal and technological modernity combined with a democratic system highlighting the role of the individual had become, during the 1930s, a beacon in a world of increasing dictatorship." He adds, "In Finland and in the United States, a democratic political system with high esteem for individual incentive provided the framework [of a modern infrastructure]." A failed project between the two nations was not lost, for Aalto's legacy in America continues to unravel.