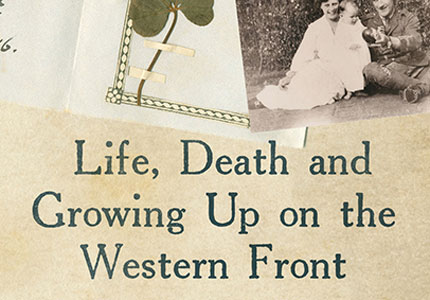 Letters from the Western Front
"Write as often as you can. I long for letters now."
—Private Peter McGregor
In 1989, historian Anthony Fletcher found an old tin trunk among his grandmother's possessions. In it were 243 letters, sent by his grandfather Major Reggie Trench to his wife Clare during World War I. They lay beside 35 other letters that Reggie had written to his mother—after he died in battle in 1918, she had painstakingly traced his pencilled words in ink. As he delved into these carefully-preserved memories, Fletcher realized that letters provided an alternative avenue of research into WWI that hadn't yet been fully explored. Life, Death and Growing Up on the Western Front is the result of that fateful discovery.
Written in the midst of chaotic circumstances and addressed to the closest confidantes, letters provide an incredibly intimate glimpse into the thoughts of soldiers during the war. "They have an immediacy unlike any other source," Fletcher writes. In Life, Death and Growing Up on the Western Front, he focuses on the letters of eighteen men whose writings vividly reveal the emotional experience of being on the battlefield. These soldiers vary widely in age, social background, profession and rank but together, their letters become a powerful lens for some of the most important aspects of the war experience: the patriotic idealism, trauma and shell shock, social hierarchy among soldiers, the ebb and flow of morale, and attitudes toward the enemy.
Some of the letter-writers seemed able to keep their spirits up throughout the war, perhaps most dramatically exemplified by Julian Grenfell, who found the experience to be an endlessly energizing source of identity and purpose. "I adore war," he wrote, "it is like a big picnic without the objectlessness of a picnic. I have never been so well and so happy." But others, such as the eighteen-year-old Alec Reader, struggled to find meaning in the many day-to-day horrors of the battlefield. These difficulties were compounded by the dilemma of what to reveal, and what to conceal in their letters back home. On one hand, they wanted their letters to be a source of reassurance for their loved ones; on the other, they craved a cathartic outlet:
Providing honest matter-of-fact accounts of performance yet making light of the worst aspects of trench warfare, soldiers were walking a tightrope. Emotions slipped out: hints of the strain they were under marked the most thoughtfully constructed letters. For there was sometimes a desperate wish and need to tell.
Alec Reader, for example, finally allowed himself to be fully honest on 4 May 1916 when he wrote, "I have seen men killed and wounded and have had to carry a mortally wounded man to the dressing station on a stretcher … the poor chap was dying fast and knew it. It was awful … war is a rotten game." But then a few days later, he was racked with guilt about what he had written: "don't take any notice as we all have our rotten moments."
On the other hand, letters could also serve as a coping mechanism for these men, by offering them the indulgence of nostalgia. Fletcher explains,
"Men found the more stressful their situation became the greater their need for their homes as a heaven. Nostalgia distracted soldiers from the tedium of trench routine. At times it offered escape from anxieties that threatened to become intolerable. Emotional survival could be purchased by drawing upon the power of distant love."
So it was in this spirit that Robert Hermon teased his wife, Ethel, about her initial reluctance to accept his proposal, referring to the "day when you nearly chucked away a damned good bargain," and that Alec Reader trivially asked his mother if she remembered "the way I used to spread the butter and jam?"
By bringing together these letters and revealing the broader truths that they convey, Fletcher gives us a unique view of history that abounds in empathy. "Interpretation of the Great War," he concludes, "has gone through many phases since 1918. I have sought to add another layer to it in this book by a precise focus on a particular kind of source material … My stories of living and dying, of shellfire in the front line and football and concerts behind it, have sought to capture the struggle as a few men lived it. I see telling these personal stories as a contribution to the long and continuing historical project of coming to terms with four of the most momentous years in our national history."