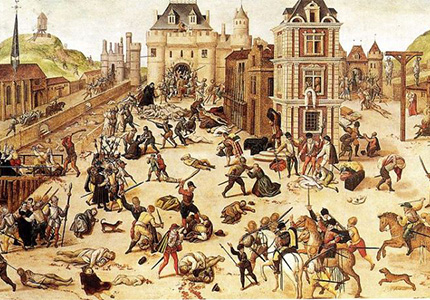 Protestantism in European History: The Huguenots
In Francois Dubois' painting of the Saint Bartholomew's Day Massacre in 1572, we see one of the worst acts of violence in the French Wars of Religion. Catholics attack the Huguenots, French Calvinist Protestants, in a number of horrific ways, bludgeoning some to death and decapitating others. According to modern estimates, the number of people who died during the massacre ranges from 5,000 to 30,000. Catherine de Medici, the mother of King Charles IX, was widely believed to have been the instigator for this slaughter.
Saint Bartholomew's Day Massacre vividly captures the brutality that was directed against the Huguenots in 16th-century France. The violence was hardly restricted to one day, and their broader struggle for survival is powerfully documented in Geoffrey Treasure's recent book, The Huguenots, in which he explores what it was like to be a Huguenot. He tells the full story of their' rise, survival, and fall in France over the course of a century and a half. From the roots of French Protestantism in the theology of John Calvin's Geneva, to the Edict of Nantes in 1598, which established some important rights for the Huguenots – and then to the revocation of those rights in 1685, Treasure charts the rocky course of history for this community.
Treasure comprehensively explains the Huguenots' system of belief, but also gives readers a glimpse of what it felt like to be them, going through daily life with their different customs, beliefs and dress. He explores what it was like to be a Huguenot living in a "state within a state," weaving the everyday stories of ordinary citizens together with those of statesmen, feudal magnates, leaders of the Catholic revival, Henry of Navarre, Catherine de' Medici, Louis XIV, and many others. He describes the Huguenots' disciplined community, their faith and courage, their rich achievements, and their unique place within Protestantism and European history.
Despite living in an unstable political milieu, this minority group held firmly onto their beliefs:
From the elation of the early days, followed by the stern tests of persecution and civil war; to the conditional rights enjoyed under the regime of the Edict; to the renewal of persecution and its shocking climax; to the creation of the church of the Desert, the mindset is constant. Huguenots were not afraid to be strangers in their own country. Faith was all.
The story of the Huguenots — one of religious oppression, the restriction of social identity, and the instability of religious difference — is perhaps deeply resonant with our own age. Their beliefs and living condition may seem faraway, but their story is an important one to remember.