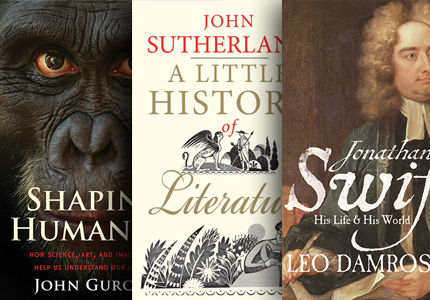 Win a Gift from Yale University Press in our Holiday Goodreads Giveaways!
This December we are joining in the holiday spirit by giving away some our favorite books from the year. The holidays are a time for reflection, and each of these books looks back at the history of our world, from the evolution of man, to the great literary artists of the western canon. These books would make great gifts, but we suspect that once you get your hands on one, you won't want to give it away.
Be sure to enter by December 31st with your Goodreads account for your chance to win!
| | |
| --- | --- |
| | What did earlier humans really look like? What was life like for them, millions of years ago? How do we know? In Shaping Humanity, internationally renowned paleoartist John Gurche describes the extraordinary process by which he creates forensically accurate and hauntingly realistic representations of our ancient human ancestors. His artworks appear in world-class museums and publications including National Geographic and Science, and he is widely known for his contributions to Steven Spielberg's Jurassic Park. More than 150 illustrations of his works are nothing short of transfixing. |
| | |
| --- | --- |
| | This 'little history' takes on a very big subject: the glorious span of literature from Greek myth to graphic novels, from The Epic of Gilgamesh to Harry Potter. John Sutherland is perfectly suited to the task. He has researched, taught, and written on virtually every area of literature, and his infectious passion for books and reading has defined his own life. Now he guides young readers and the grown-ups in their lives on an entertaining journey 'through the wardrobe' to a greater awareness of how literature from across the world can transport us and help us to make sense of what it means to be human. |
| | |
| --- | --- |
| | Jonathan Swift is best remembered today as the author of Gulliver's Travels, the satiric fantasy that quickly became a classic and has remained in print for nearly three centuries. Yet Swift also wrote many other influential works, was a major political and religious figure in his time, and became a national hero, beloved for his fierce protest against English exploitation of his native Ireland. What is really known today about the enigmatic man behind these accomplishments? Can the facts of his life be separated from the fictions? In this deeply researched biography, Leo Damrosch draws on discoveries made over the past thirty years to tell the story of Swift's life anew. |