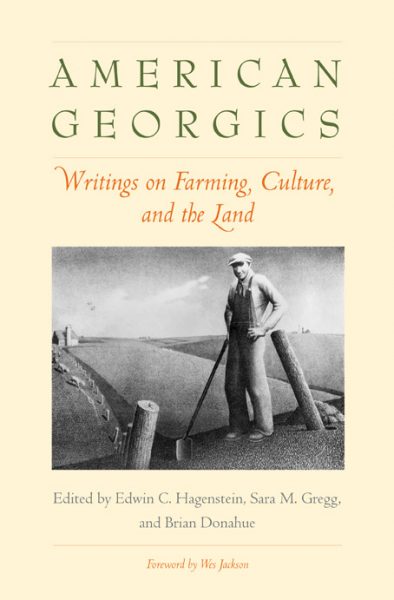 The Swinging Pendulum of Agriculture in America
When Thomas Jefferson drafted the Declaration of Independence he would never have imagined a country where agriculture was not always a respected activity in society. In American Georgics: Writing on Farming, Culture and the Land, editors Edwin C. Hagenstein, Sara M. Gregg, and Brian Donahue explore the history of agriculture in America using writings by political, literary, social, and environmental powerhouses of their time to track American history from its beginning as a burgeoning agricultural society to a service-oriented culture and the swing back towards agricultural sensibilities in recent
years. Drawing from the text of speeches, poems, letters, essays, and other written material, Hagenstein, Gregg, and Donahue investigate some of the factors that have shaped American agricultural policy.
From American figureheads like Alexander Hamilton and James Madison to authors Willa Cather and Louisa May Alcott, Hagenstein, Gregg, and Donahue include a variety of opinions on agriculture. They traverse history, starting with the first Americans in the 1780s and moving through the Industrial Revolution and into present day and the shift from agriculture to service-based economics is visible through industrialization and the influence of the Southern economy. One of the places this is most evident is in the excerpt from Willa Cather's My Ántonia, which extols the values of farming and mourns the confinements of industrialization and town life. Cather's work highlights the tensions that existed between the business-oriented people in town and the farmers, often immigrants, on the Nebraska plains.
Hagenstein, Gregg, and Donahue balance Cather's views with opinions of those who were no longer content with the established agricultural system that had been in place for over 150 years. In 1919, writing just one year after Cather published My Ántonia, Edwin G. Nourse opined that anyone who believed agriculture was superior to other industries did so because "more adequate economic theories of today have not yet superseded in some quarters the quaint patterns of thought which belong in the time of Louis XV [1710-1774]." Nourse does not discount the importance of agriculture in society; rather he advocates that a nation with a system to transport or technology to harvest crops is a more advanced nation.  History has shown that Nourse was correct, at least in saying that the new notion would one day be accepted throughout the United States. However, it is unlikely that Nourse would have predicted the swing towards farming again at the end of the 20th century.
The most recent essay in American Georgics, written in 1994 by Wes Jackson, president of the Land Institute, makes clear the shifting idea about agriculture. Jackson mourns that people in the 1920s "were further along in the necessary journey to become native to their places… than we are."  This pattern continued to grow well into the 21st century until the growth of the green and environmental movements.  Organic farmland nearly doubled between 2006 and 2009 according to data from the Department of Agriculture. The backlash over processed foods, portion size, and nutritional values in places like New York City may also play a role in the changing role of agriculture in society. Increased political attention to agriculture, with First Lady Michelle Obama's White House vegetable garden (much like former President Thomas Jefferson), has also influenced the general impression of agriculture. How long the pendulum of American values swings in the favor of this view remains to be seen. Whatever the time frame, agriculture will remain a vital part of the American experience for generations to come.