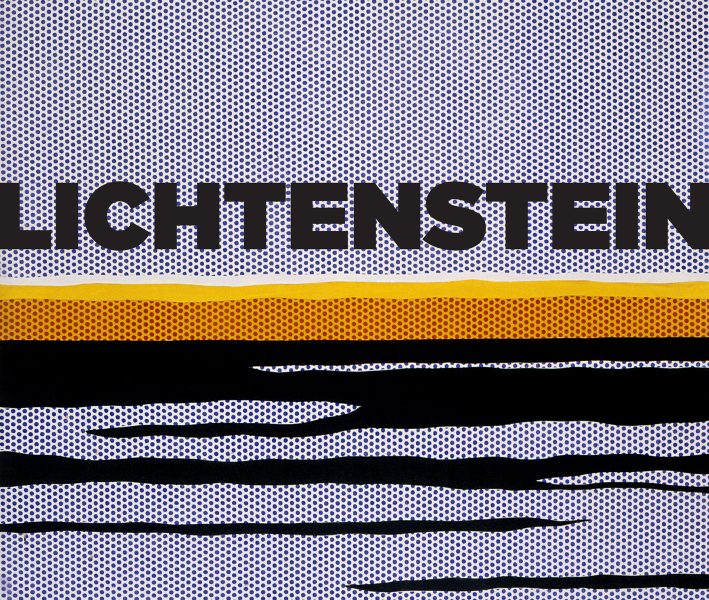 Roy Lichtenstein's Love Affair with Chinese Landscape
When we're asked to envision pop art, we tend to think of an art form that draws its objects and ideas from commercial culture: advertising, celebrity, mass production, etc. What we don't tend to associate this particular movement with is the painterly. After all, one of the proclaimed aims of American pop art was to push back against abstract expressionism and its emphasis on the unique character of spontaneous brushstrokes. As one of the vanguard members of the pop art movement, Roy Lichtenstein actively participated in this reaction, even making a direct critique of abstract expressionism with his Brushstroke Series. In pieces like Little Big Painting (1956), he took what the expressionists would call active, "living" brushstrokes and froze them in his characteristically detached and decorative style. However, as with all things Lichtenstein, it is difficult to gauge the line in this series between ironic commentary and homage. The artist himself remained enigmatic on the subject. When asked about his parody, he explained the work by saying: "Actually I love the Abstract Expressionists, or I like the ones I like, anyway. My work is, after all, a kind of straitjacket."
Thinking about Lichtenstein's work as a meditation on painterly forms through the lens of his self-imposed "straitjacket" – what he sometimes called his "mechanical" approach – meshes well with his surprising affection for the ancient Chinese art of landscape painting. In Roy Lichtenstein: A Retrospective, Stephen Little notes that Lichtenstein's love affair with Chinese landscape began early in his career. He was exposed to Chinese art while a student at Ohio State University in the 1940s and collected books from several major exhibitions. These became direct sources of inspiration for a twenty piece series on Song dynasty landscapes in the last three years of the artist's career.
As with abstract expressionism, Lichtenstein's engagement with the Chinese landscape tradition appears to reflect both light-hearted irony and a more somber appreciation for the beauty of the form. A striking example of this is the piece Landscape in Fog (1996). As Little notes, "A key aspects of the genre that fascinated Lichtenstein [was] the successful projection of atmosphere as a simplifying and unifying element that reduces the visible world to near-abstraction, embodying a striking philosophical and metaphysical detachment in the contemplation of emptiness." Lichtenstein demonstrates his understanding of this sublime simplicity in his own landscape through a masterful reemployment of the Ben-day Dots more commonly associated with his paintings of comic book art. Coupled with this detached, "mechanical" approach, however, is a conspicuous series of abstract brushstrokes at the painting's horizon line. In Chinese painting, the brushstroke was seen as a unique calligraphic mark, the primary criterion for judging quality and authenticity. Thus, "the traditional Chinese viewpoint would assess the bold, gestural brushwork in Lichtenstein's Landscape in Fog as a reflection of the artist's character and, consequently, as a criterion for judging the quality of the painting's artistry," something that the pop artist was no doubt aware of and making an ironic gesture toward.
While it may be tempting as viewers to try to resolve the painting's visual and conceptual tensions, as Little smartly points out, Lichtenstein's enigmatic relationship to the brushstroke is shared by Chinese landscape painting as a genre. "A key point of confluence," he writes, "between Lichtenstein and traditional Chinese painters is admiration for images that appear naïve but are in fact technically brilliant, understated and imbued with subtlety – images in which the artist's true mastery is masked. In China the achievement of these seemingly disparate goals were held in high esteem." If nothing else then, Lichtenstein's encounters with Chinese landscape painting work brilliantly to challenge our own investment in the painterly qualities of a piece of art.
For more on Lichtenstein's relationship to Chinese Landscape, check out this post from our friends at the Art Institute of Chicago, where "Roy Lichtenstein: A Retrospective" is on view until September 3.